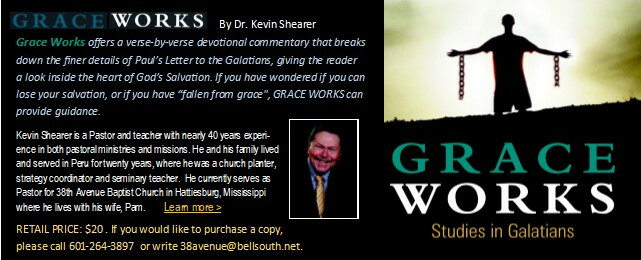 Grace Works offers a verse-by-verse devotional commentary that breaks down the finer details of Paul's Letter to the Galatians, giving the reader
a look inside the heart of God's Salvation. If you have wondered if you can lose your salvation, or if you have "fallen from grace", GRACE WORKS can provide guidance.
In Paul's ministry, the Judaizers were those who persuaded themselves to resist and attack the grace of God. For them, it was unconscionable that any man would not have to work his way to the presence of God. That presence must be earned; it must be worked for. These men who converged upon the Galatian churches were enemies of grace which put a new spin on old lies. These men intended to change the very foundational doctrines of the church.
It was this attack that Paul confronted. His counterattack, inspired by the Holy Spirit, has given the world one of the greatest treatises on grace. Grace flowed from his pen onto eternal pages of Scripture and consequently, into the hearts of committed Christ followers who read them.
Pastors and laymen seeking study tools for preaching and teaching Galatians will find it to be a useful resource in all spiritual libraries. Deepen your understanding of Paul's Letter to the Galatians with Grace Works.
Kevin Shearer is a Pastor and teacher with nearly 40 years experience in both pastoral ministries and missions. He and his family lived and served in Peru for twenty years, where he was a church planter, strategy coordinator and seminary teacher. He currently serves as Pastor for 38th Avenue Baptist Church in Hattiesburg, Mississippi where he lives with his wife, Pam. Learn more >
RETAIL PRICE: $20 . If you would like to purchase a copy, please call 601-264-3897 or write